Important Update Regarding the COVID-19 Epidemic
We understand that the event, entertainment industry, and supporting businesses have been highly impacted by the COVID-19 pandemic. These are unprecedented times for all of us, but know that we are here for you. We have always been your trusted partner and you should expect no less as we address the threat of COVID-19. We have been deemed an Essential Business and will be available to support the needs of our clients without compromising safety. We wish you and all of your family good health. We also urge you to practice social distancing.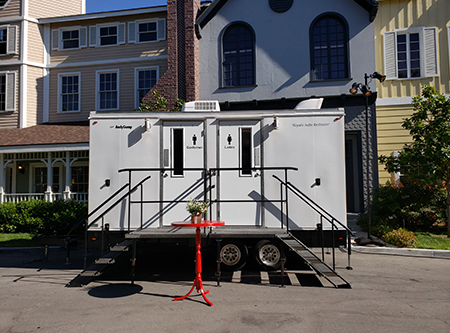 Special Events / Film / Television
Andy Gump offers the expertise and restroom rental equipment to make your special event perfect. Whether you're organizing a multi-day event for thousands, or planning an intimate private party, we'll provide exactly what you need in portable restrooms.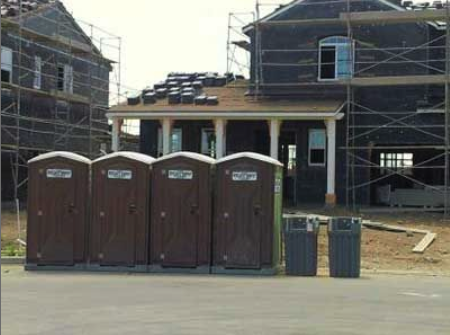 Construction / Temporary Power
With more than 60 years of on site experience serving the commercial and residential construction industry in Southern California, you can count on us to deliver high-quality temporary construction site equipment that will get the job done.
Fencing / Barricades
When it comes to on-location sanitation and site services, we're a star. Production companies know that no matter what the script calls for, they can count on Andy Gump to perform like none other.
Special Events / Film / Television
Andy Gump offers the expertise and restroom rental equipment to make your special event perfect. Whether you're organizing a multi-day event for thousands, or planning an intimate private party, we'll provide exactly what you need in portable restrooms.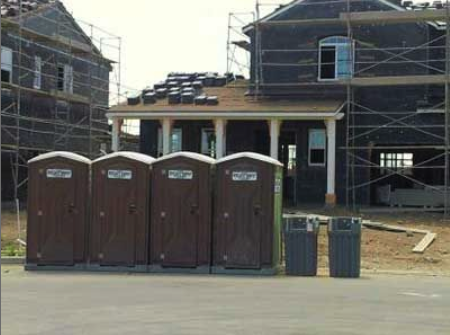 Construction / Temporary Power
With more than 60 years of on site experience serving the commercial and residential construction industry in Southern California, you can count on us to deliver high-quality temporary construction site equipment that will get the job done.
Fencing / Barricades
When it comes to on-location sanitation and site services, we're a star. Production companies know that no matter what the script calls for, they can count on Andy Gump to perform like none other.
Portable Restrooms and Luxury Restroom Trailers from Andy Gump
Andy Gump is a family owned and operated portable restroom rental company in Southern California with over 60 years of experience in Portable Restrooms for Construction, Temporary Site Services and Special Event Services. From a small, intimate backyard event with one portable unit to an Olympic special event that manages multiple vendors and logistics, we can take care of any size project. See our success stories.
Since 1956, Andy Gump has been Southern California's most recognized and trusted name in Temporary Site Services! Featuring the finest equipment and the most responsive service, Look no further than Andy Gump to deliver complete temporary site solutions. More than a porta potty, Its an Andy Gump!
See what Our Customers are Saying
Three Generations of Quality Service
Bar-ry-isms
/berē,izmz/
noun
a famous quote heard around the Andy Gump offices and yards that originated from Barry Gump.
If you've been around Andy Gump long enough you've probably heard some of Barry's famous quotes.
"Experience is surviving your mistakes."
"Laughter is the lubricant of life."
"Respect is earned, not given."
"Success is earned, not given."
"With God's blessings, you have to be ready, willing, able… and lucky."
"You can fool everybody but yourself and God."
"You work with us, not for us."
"Us and We, not I and me."
"I know what you think about what we do, but we are not going to prove you right by doing it for nothing."
"Are you a have to, a will or a want to? We need the want to's."
"When you tell the truth, you don't have to remember anything."
"How's your copperosity, is it shagastigating under the biological influence of the weather?"
"We would not ask our team members to do anything that we have not done or would not be willing to do ourselves."
"If we won the lotto, we'd go national."
"Golf tournaments are great, they have the 'movers, shakers and decision-makers.'"
"Would you consider . . ."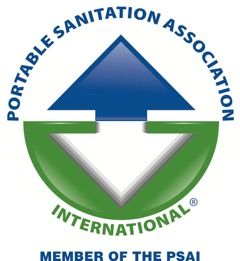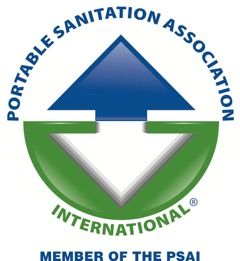 Learn More about Portable Restroom Rentals
Andy Gump© – Your Temporary Site Services
Andy Gump© is a highly respected family operated and owned company that has an experience of over 60 years in offering temporary services for Special Events of any kind, ranging from the small backyard events to the really large events with thousands of participants. Our company offers every temporary site service you need from porta potty rentals to temporary fencing. Our family oriented company started giving access to porta potty rentals in the year 1956, moving towards one of the most trusted and recognized services in Southern California. Andy Gump© offers a complete site solution based on the individual needs that appear. Our reputation is important for us and you can be sure that we will never do anything to jeopardize that.
Porta Potty Rentals
Porta potties are known by many different names like Port-A-John or Porta Loo. Ever since they were introduced in the sixties, their popularity soared. When you rent a porta potty the success possibility of an event is automatically increased. This is especially the case with outdoor events or construction sites. In such examples it is a necessity to guarantee the presence of suitable restroom facilities. Every person knows the porta potty. The one that is familiar for most people is the small restroom stall that is portable and made out of lightweight plastic, normally present on construction sites. Porta potties that are present serve as temporary toilets. They can be moved from one location to the next, delivering what is necessary in specific situations. When you rent porta potty facilities, you also receive antibacterial hand sanitizer dispensers and toilet paper. This is the most basic porta potty, with various extras being possible. Some of the Andy Gump© special trailers include internal hand washing stations and much more. Porta potty rental cost is normally beneficial for clients because traditional plumbing is not necessary. Organic deodorizing solutions are used in order to manage and disinfect waste. Such solutions are normally found right in the bottom area of the porta potty rentals.
Determining Porta Potty Rental Cost
Andy Gump© takes various factors into account when deciding how much to charge. This is because different events have different portable toilet use necessities that have to be taken care of. We pride ourselves on offering everything that the clients need so the accurate number of porta potties for sale or rent will be determined based on many factors. As a very fine example, in the event that alcohol will be served at an event, restroom use frequency will be impacted. When there is a concert and many people consume alcohol, a porta potty will be used much more often than when comparing with the regular construction site. Also, expected participation has a huge impact on needs and costs. Even the male to female ratio counts. An Andy Gump© representative will participate in a meeting with you in order to determine the exact porta potty needs so that an accurate porta potty rental cost can be presented.
Andy Gump Portable Potties
Andy Gump© is proud to offer a complete solution, no matter what needs exist. We service all types of events and locations, ranging from the backyard party to the athletic fields. The comfort amenities that we offer are unparalleled and you can easily notice that as you browse through our website sections. What we always guarantee is the cleanest industry porta potty rental that can be delivered. While porta potty rentals are quite common, if you see the Andy Gump© logo, you can be sure that the porta potties are highly reputable. With a highly competitive pricing and an experienced staff that offers the needed assistance, you can be sure that the event will be serviced properly. The Andy Gump© porta potties bring in various advantages and features. Let us just mention some:
Dual toilet paper rolls
Limited space versatility
Hand sanitizers
Various optional features that are available
Andy Gump© Luxury Temporary Site Services
VIP Portable Potties Our team takes great pride in the special VIP (Very Impressive Portables) porta potty since it offers a high sophistication level that cannot be matched. These porta potties are perfect for so many situations when luxury is needed in everything that is offered for event participants. The VIP restroom trailers and porta potties bring the event to the next level. VIP potties are self-contained and require zero utility connections. The VIP trailers include the following, only to mention some great features:
Fresh water porcelain toilet
100% privacy
Soap dispensers
Interior mirror and lighting
Dual paper rolls
Sanitary seat pads
Make sure to look at the VIP Restroom Trailers section to find out more about these great options if you are considering renting a porta potty that offers much more luxury. Special Event Restroom Trailers If you want the ultimate luxury, look no further than the special event restroom trailers. They are so much more than a porta potty. Our team manages to offer access to full service trailers that are comfortable, spot clean and spacious. We recommend them for health clubs and television locations but they are also perfect when faced with restroom remodeling or even for an emergency shelter. Some of the highly popular features we should mention include:
Private restroom stalls
A large sink and mirror
Separate areas for men and women
Mirrors
Inside lighting
Central heating
Air conditioning
Read more about the features offered by our restroom trailers here.
Construction Site Porta Potties
Most of the companies that rent a porta potty do so because there is construction work that is done and there is a need to offer restroom facilities for construction workers. When porta potties initially appeared, it was because of this necessity. We started offering service for construction sites in order to offer high quality temporary services at affordable prices. The range of services and equipment that is available for construction sites is large. Our equipment inventory guarantees that adequate restroom facilities will always be present on-site. You will work with an account manager that will meet with you, discuss specific needs and then you would decide what you want for the construction site based on budget and professional advice offered for free.
Restroom Facilities For All Events
There are many different types of event that bring in the need of renting a porty potty. This includes the casual convention and upscale corporate events. Andy Gump© completely understands what is necessary to make events highly successful. Because of this, we always cater to the individual customer's unique needs, offering solutions for basically all occasions. This includes but is not limited to: Small Gatherings A small event like a picnic, a wedding or a backyard party normally requires individual porta potties that include trash boxes, hand washing stations and hand sanitizers. We give you access to various porta potty rental prices based on the exact wishes you have. If you want to, we offer flushing toilets and porcelain sinks in our porta potty rentals. Large Events Great examples of large events that require a porta potty rental system include tournaments, fairs and festivals. If there is a larger volume of attendees, we have a larger volume of porta potties that are needed. Based on large event type, this also can include VIP regions and luxury restroom trailers like the ones we highlighted below. A large event brings in many challenges and Andy Gump© knows how to take care of everything that you may need. There are porta potties with special features like wheelchair access, trash boxes, bulk trash disposal opportunities and discounts for large rental contracts that are offered on a constant basis. As mentioned above, our inventory is huge and we can deliver everything that you need, no matter the circumstances or the volume.
Porta Potty Rental Time
One of the deciding factors that impact what portal potty rental you need is for how long the porta potties will be necessary. It is a factor that is really important and you will need to be offered what you need based on time constraints. Andy Gump© is specialized in both long term and short term porta potty rentals. There are many differences between the two and we completely understand what the best choice is for you. Long Term Porta Potty Rental Services The temporary restrooms Andy Gump© offers give you access to cost effective alternatives to the common approach of building permanent restroom areas. You also have the convenience of being able to move the potty units to other areas, based when they are actually needed. You no longer have to be faced with costly maintenance expenses that are ongoing since our specialists take care of everything for you, based on a pre-discussed schedule. As an example, when a movie is filmed in a specific location for a really long time, in a region that is remote, a number of porta potties will be needed. This may include trailer restroom facilities and other specific extras based on a case by case scenario. A representative of Andy Gump© will discuss the needs that you have, the long term necessities, the budgets and will make recommendations that are sure to perfectly fit all your necessities. Typical facilities that normally require long term porta potty rentals include:
Farms
Landfill regions
Lumber yards
Factories
Warehouses
Shipyards
Water Treatment Plants
Temporary Porta Potty Rental Services When using temporary porta potties you get rid of the necessity to use expensive water, sewer and even electrical hook-ups. At the same time, you save money on ongoing maintenance costs, thus managing to limiting investments. People that would use the porta potties need to receive quality services and this is exactly what Andy Gump© offers. Clients normally appreciate the convenience associated with the flexibility of porta potties and the clean facilities we specialize in. Andy Gump© has a huge experience in offering temporary porta potty rentals for all budgets and needs. The standard portable potties we give you access to are a casual, green and economic option for all the temporary restroom requirements you require. If necessary, we give you access to special VIP portable toilets. They are highly popular for temporary restroom needs and can include flushing toilets, multi unit standard trailers, luxury restroom trailers. Based on the number of people that have to be serviced, suitable solutions can be offered by Andy Gump©. The regular facilities that would require temporary porta potty rentals include:
Schools
Parks
Athletic Fields
Campgrounds
Clubs
Golf Courses
The Andy Gump© Guarantee
We do not just specialize in temporary restroom site services. We take everything one step further and guarantee that when you work with us you will be happy. Our team manages to keep porta potty rental cost as low as possible, even when referring to the VIP services that are more expensive than the regular porta potties everyone is used to. Because of the experience that we managed to gain along over 60 years, we can give you the possibility to rent the exact porta potty that is needed. Our guarantee is that we offer high quality temporary services and our reputation will immediately be evident when you arrange a meeting with our representative. Make sure that you look at the wide range of services that we offer. Analyze the different types of porta potties available and learn more about the opportunities that appear when working with Andy Gump©. If you want to learn more about Andy Gump©, check out the About Us section. Also, we recommend that you check out Andy's blog so that you can learn even more about our services.